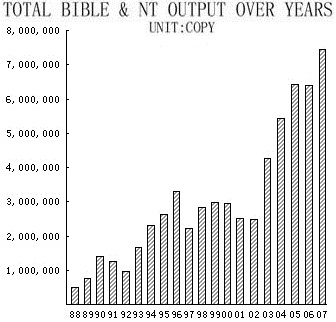 Nanjing Amity Printing Company ("Amity Printing") is China's sole Bible printer and a controversial one.
Located in the city of Nanjing, Amity Printing was created in 1985, four years after Project Pearl exposed to the world the lack of Bibles and the persecution of Christians in China.
Amity Printing became operational in 1987 but the Bibles that Amity Printing initially printed were used to arrest underground church Christians. To buy Amity Bibles at the government-controlled Three Self churches - the only places where Amity Bibles were and still are sold - they were made to show identification and/or tailed until their underground churches were discovered and its members arrested.
Amity's Bible output initially peaked in 1996, slid somewhat until 2002, and then began a steeper climb (above). Amity reported that by the end of 2010, 80 million cumulative "Bible and NT" were printed and that of the first 54 million copies, 43 million (80%) were sold inside China. In 2008, Amity completed a new plant with 12 million Bible annual printing capacity, which raised its total annual printing capacity to 18 million Bibles, the world's largest.
The impression given by all of these figures reported by the Communist Party-controlled Amity Printing is that Bible printing is going through the roof and that most of the Bibles are being sold to the Chinese Christians inside China.
But why has Amity Printing yet to update in 2012 the chart above with the data for the years up to 2011? And why does it report 80 million Bibles printed cumulatively by 2010 but break down the domestic vs. export data for just the first 54 million Bibles, which was reached at the end of 2006?
(continued at UBS China)