| | |
| --- | --- |
| Open Doors with Brother Andrew | |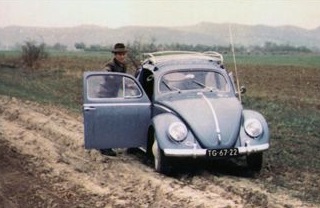 In 1955, "Brother Andrew", a young Dutchman, began smuggling Bibles in his Volkswagen Beetle (right) past the iron curtain into Communist Eastern Europe.
Thus was born Open Doors with Brother Andrew. Since then, Open Doors with Brother Andrew has been blessed into a global network of Bible delivery and persecuted Christian advocacy organizations.
In 1981, Open Doors with Brother Andrew financed and staffed the legendary Project Pearl that smuggled one million Bibles into China in one night.
Open Doors currently has 22 national chapters in Australia, Brazil, Canada, Denmark, France, Germany, Holland, Italy, Indonesia, Italy, Malaysia, New Zealand, Philippines, Norway, Poland, Singapore, South Africa, South Korea, Spain, Sweden, Switzerland, UK and USA.
In 2010, Open Doors USA, the largest national chapter, received revenues of $13.2 million, of which $1.9 million were spent on fundraising and $1.6 million on administration. The resulting revenue efficiency ((revenues - fundraising - administration) / revenues) is 73%.
Strengths
• Open Doors with Brother Andrew has led the shift in the thrust of its endeavors away from China, where the situation is relatively improving, toward the Muslim nations, where they are needed relatively more. The shift has been led personally by Brother Andrew, who has since retired.
• Open Doors has penetrated North Korea and is active in equipping and supporting the the Body of Christ in North Korea.
Weaknesses
• Open Doors' 22 national chapters lack coordination, efficiency and global reach. Learning about Open Doors' projects for a target country requires contacting 22 national offices and visiting 22 different websites, many of which are not in English and have different content.
• Open Doors is now led by a new generation of leaders, some of whom increasingly appear to rely on worldly 'wisdom', including secular marketing and fundraising techniques, than on the Lord, whom the incessant and aggressive begging for money at every opportunity fails to glorify.
In 2006, Open Doors delivered 6.9 million Bibles and literature around the world, with the Bible cost averaging $5. Four years later in 2010, it delivered 3.4 million Bibles and literature around the world.