| | |
| --- | --- |
| Open Doors with Brother Andrew | |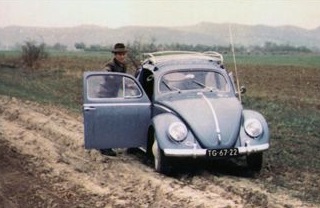 Open Doors with Brother Andrew ("Open Doors") is a ministry that supports the most persecuted Christians in the world. Open Doors identifies itself as, "We are the a part of the body of Christ, called to the persecuted church, people of prayer, seeking to live by faith, devoted to Jesus Christ and His call, motivated solely for the glory of God."
Open Doors with Brother Andrew was founded in 1955 by Andrew van de Bijl, a Dutchman who began smuggling Bibles into the Communist Eastern Europe (above) during the height of the Cold War. In 1981, Open Doors smuggled one million Bibles into Communist China in one night in the legendary Project Pearl.
In 2016, Open Doors was active in 60+ countries, supporting 200,000 Christians in need, training 250,000 people, and delivering about 2 million Bibles and Christian literature (6.9 million in 2006 and 3.4 million in 2010).
Open Doors also publishes its annual World Watch List, which details and ranks the intensity of persecution against Christians around the world. For the past 16 years, that list has been topped by North Korea, which Open Doors has penetrated.
Financing Open Doors' operations worldwide are its 22 national chapters in Australia, Brazil, Canada, Denmark, France, Germany, Holland, Italy, Indonesia, Italy, Malaysia, New Zealand, Philippines, Norway, Poland, Singapore, South Africa, South Korea, Spain, Sweden, Switzerland, UK and USA.
Strength
Brother Andrew, born in 1928, is almost 90 years old and no longer has official authority over any of the Open Doors offices. But he is still active and provides crucial credibility and leadership for the entire network.
Weaknesses
The fundraising tactics of Open Doors USA, the largest chapter in the network, remain aggressive. To collect $20 million from donors in 2016, Open Doors USA spent $2.5 million (12%) on fundraising.
Brother Andrew's eventual promotion to heaven will create a leadership vacuum for Open Doors that will be difficult to fill.
Solutions
Emulate the fundraising principles and practices of HeartCry.
Line up servant leaders from the frontline who will keep their focus on serving the persecuted church, cry out to God instead of donors, and rely on the Bible instead of marketing strategies. Learn from the leadership and management issues that currently plague Voice of the Martyrs.